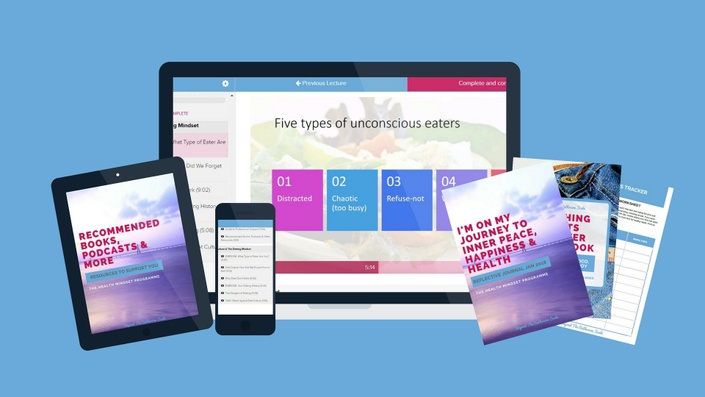 The Health Mindset Programme™
An online self-help programme to help you heal your relationship with food & your body
Tell Me More
Enroll in Course

DOES THIS SOUND LIKE YOU?
You've been dieting on and off since you were a teenager.
You've lost and regained the same weight over and over again.
You find yourself uncontrollably binging on foods in the evenings and put this down to emotional eating.
You frequently skip meals or deliberately eat less to compensate for overeating the day before.
You feel guilt, shame and regret when you overeat foods you deem to be "treats" or "off plan".
You feel like all you do is think about food, eat food, track calories/macros/points/syns and then worry about food.
You delay things in your life for when you reach a certain goal weight – relationships, career changes, even happiness!
You've said the words "I'll be happy once I reach [X]lbs"
You might exercise because you feel like you 'should', but you don't enjoy it and you choose workouts based on how many calories they burn.
You're fed up with all of this and want a permanent change in your health.
You're beginning to realise that diets do not work.
You want freedom from the anxiety around food and weigh-ins.
You're beginning to realise that there must be something more to life than worrying about weight, food and calories. [You're right – there is! So much more in fact and you're missing it!]

All of this is taking a huge toll on you psychologically, as well as physically.

Research shows that yo-yo dieting and weight cycling damages your metabolism, causes weight re-gain and increases your risk of heart disease, high blood pressure, chronic inflammation and loss of muscle. I bet these were all things you were trying to prevent in the first place, by dieting to lose weight, right?

Psychologically speaking, by dieting you're much more likely to struggle with disordered eating, such as restriction, binge eating and even purging (which includes over-exercising with the intention of burning off excess calories). Sound familiar?

Let's also talk about the financial cost of dieting. You probably pay gym membership to encourage you to exercise. You may even pay slimming club fees to keep you accountable to your diet. You buy health magazines, vitamins, healthy snacks and new workout clothes.

There's still a part of you that clings to the idea of finding 'the right diet' the one that will work this time.

But deep down you know that the next diet will fail too. You're just not sure how to escape the dieting cycle or the binge/restrict cycle you find yourself stuck in.

Introducing The Health Mindset Programme™, brought to you by Beyond The Bathroom Scale ®, an online self-help programme for busy women who want to heal their relationship with food, exercise and their bodies. (That's you, right?)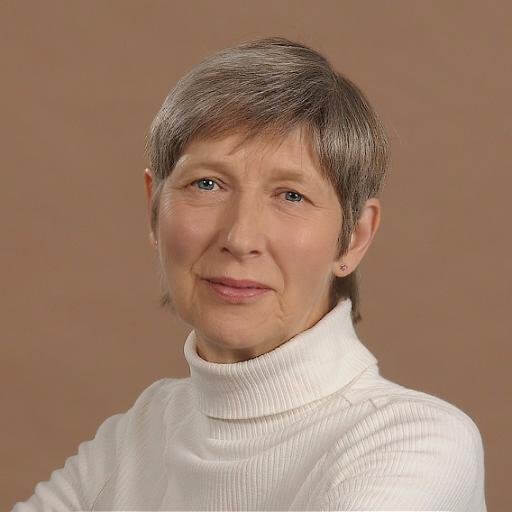 "As the name of her blog, 'Beyond the Bathroom Scale', suggests Karen Oliver believes improved health depends on more than the constant monitoring a narrow range of parameters"
- Susan Krueger, Diet and Nutrition Adviser at Your Food For Life
HERE'S WHAT YOU'LL GET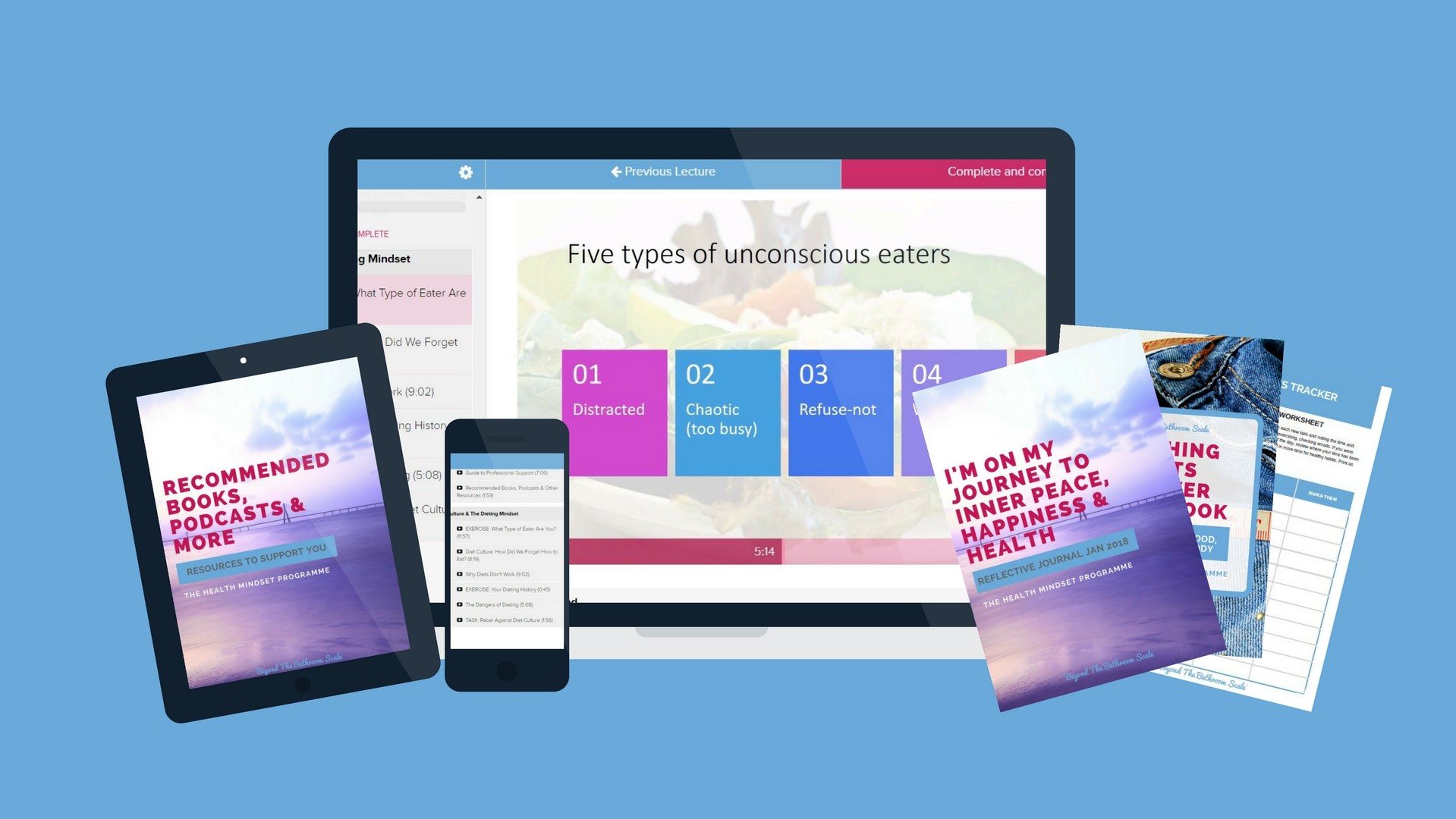 VIDEO-BASED LESSONS
When you join, you'll have instant access to all the Quick Start 6-Day Course, Induction Module, Prep-Work content, the Diet Culture Module, Body Acceptance Module, Body Awareness Module, Emotional Eating Module, Intuitive Eating Module, and the Health Beyond The Scale course (inc. three modules: Gentle Nutrition, Joyful Movement and Health Assessment) - all within The Health Mindset Programme™.
Each module is broken down into short, bite sized lectures, packed with actionable advice - because I know you have a busy life!
DOWNLOADABLE WORKSHEETS & GUIDES
For each module there are downloadable PDF worksheets and practical exercises to help you overcome a lifetime of dieting, poor body image and disordered eating.
MONTHLY REVIEWS & CHECK-INS

This won't be a case of 'join and forget', there will be monthly email prompts to see how much progress you've made with conquering the dieting mindset and identifying any new issues.
MEMBER FEEDBACK
"The emotional eating module was LIFE CHANGING for me! I never realised that comfort eating was benefiting me on some level but it all makes sooo much sense for me now. I've been working really hard the last few months to tune into my emotions and pick apart my thoughts to figure out what I really need (it isn't wine - who knew! haha!). The worry journal exercise has stuck with me the most, it's been so helpful, thank you so much for all your help and the videos and workbooks!)" - Programme Member, May 2018
"I've just got back from a restaurant with my hubby. I thought about what you said about 'unconditional permission to eat' and I ordered exactly what I wanted on the menu (no salad this time!). By our third course, I felt full, but satisfied, like on a deep emotional level, as well as in my belly. I just stopped eating midway through my dessert (this is really HUGE for me, I NEVER stop eating midway through dessert!) and I didn't feel like I'd missed out, or wasted food, offended someone for leaving it, or anything like that. It was just amazing like I could actually listen to my belly and stop eating without the mental battle and wanting to binge." - Programme Member, April 2018
"I haven't weighed myself in weeks, I just don't care about that number anymore because I'm enjoying my life, eating food I actually like and doing yoga too...and you know what? I feel damn good about myself for the first time in years! I cannot thank you enough, Karen!" - Programme Member, December 2017
Your Instructor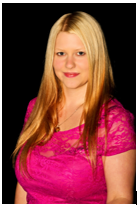 Karen is the Founder of Beyond The Bathroom Scale ®, a feminist health psychology blog and the Programme Director of The Health Mindset Programme™. She also regularly writes for Huff Post.
Her award-winning blog and coaching programme is based on the Health at Every Size ® approach to health and draws on the principals of Intuitive Eating, the Body Positivity movement, Motivational Interviewing (MI), Positive Psychology and Dialectical Behaviour Therapy (DBT), in order to help busy women tackle disordered eating, overcome emotional eating and recover from long-term dieting via a holistic, research-led online coaching programme.
A former Social Worker, Karen comes from an academic background of Psychology and Sociology. She holds a Bachelors degree in Sociology, specialising in health and society and a Masters degree in Social Work. She has trained in Counselling skills and Psychotherapy-based approaches such as CBT, DBT and Motivational Interviewing, and is currently studying towards a Diploma in Professional Nutrition.
When she's not working or studying, she can be found either running after a very active toddler, watching Netflix with her husband, painting with a glass of wine in hand, or in the gym, where her passions are weight lifting, swimming and yoga.
She is also a carer for her father, who has been diagnosed with Vascular Dementia and her mother, who struggles with her mental health and suffers with Anorexia Nervosa.
Karen has successfully reversed hypertension and pre-diabetes and overcame her childhood and teenage eating disorders. She credits a huge change in mindset for being able to do this, which was her inspiration for The Health Mindset Programme™.
As featured in:

HERE'S WHAT WILL HAPPEN WHEN YOU JOIN
You will get angry at an industry that profits from making you feel bad. Together we will tackle diet culture. We'll learn what it is and how to recognise it, tune out from it and how to finally break out of the dieting cycle.
You'll tune out the harsh voice in your own head that tells you you're lazy, not good enough or not disciplined enough, and you'll replace that voice with a compassionate, friendly voice. The real you.
You'll learn how to listen to your body's cues for what it really wants, and you'll know exactly how to give it what it wants. This is the antidote to dieting!
You'll learn to love food again and feel at ease with not tracking every little detail about what you eat.
You'll remember what it's like to move your body for the sake of enjoyment instead of obligation – like when you were a child and ran around jumping in puddles and dancing in your bedroom.
We'll tackle common issues such as poor body image, emotional eating and self- compassion.
You'll learn about a whole new world away from dieting, including the social movements that are fiercely fighting back against diet culture, and promote body confidence and healthy habits without a focus on weight loss.
Frequently Asked Questions
By enrolling on this Programme you acknowledge and agree to the following.

This programme is not appropriate for people with active eating disorders; if you are suffering from an eating disorder, or have suffered from one in the past please seek professional advice from your GP instead.

Although this course is intended to help heal your relationship with food and eating, for some it may be triggering for anyone who has a underlying eating disorder.

If at any point in the programme you suspect you have the symptoms of an eating disorder, you must seek the appropriate care immediately. Eating disorders must be treated by suitably qualified individuals such as general practitioners, registered psychotherapists, or a registered dietitian who specialises in eating disorders.

For Educational and Informational Purposes Only
The information provided in or through this Website is for educational and informational purposes only and solely as a self-help tool for your own use.
Not a substitute for professional advice
I am not a registered counselor, dietitian, personal trainer or any other kind of health professional and do not hold myself out to be. The information contained in this Website is not intended to be a substitute for health or wellbeing advice that can be provided by your own GP or health an wellbeing practitioner. The advice found on this Website should be treated as a suggestion, based on my own personal experience of what works for me, rather than from medical training. This programme is not a substitute for seeking professional help with eating disorders or other mental health issues.

Although care has been taken in preparing the information provided to you, I cannot be held responsible for any errors or omissions, and I accept no liability whatsoever for any loss or damage you may incur. Always seek health care advice from a registered professional, relating to your specific circumstances as needed for any and all questions and concerns you now have, or may have in the future. You agree that the information on our Website is not professional health care advice.

Please view the full disclaimer, privacy policy, terms and conditions and refund policy pages for more information. The links to these pages are accessible via the footer of any page of this website.